Happy New Year!
Happy New year to you and your family!
2016 is in the history books along with record setting drought, heat, and wild fires. It's truly amazing how mother nature can wreak havoc on our forests and lawns. Our lawns took a beating during the 2016 season and now it is time to recover the lawns and we are READY.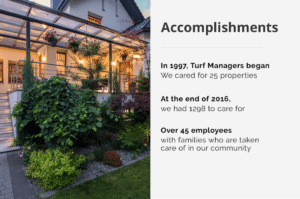 2017 is going to be a BIG year for us. This year we celebrate our 20th Anniversary of serving the Nashville and Williamson county areas. We are VERY proud of this accomplishment and have fought long and hard to achieve this feat. We have seen many changes in equipment, environment, economics, regulations, government and our surrounding areas. We are proud to say that we have met each change as an opportunity to grow and learn.
In 1997 the idea of Turf Managers was started and we had approximately 25 properties to care for. At the end of 2016 we had 1,298 properties to care for. We are very Blessed indeed. We provide jobs (because you let us work for you) for over 45 employees throughout the year which equates to 100's of family members being taken care of here in our community.
By you allowing us to work on your property we have been able to give back to our community with our time or donations. During our 20 years in business we have supported Susan G Komen of Greater Nashville, Shriners Children's Hospital, Percy Priest Elementary School, JT Moore Middle School, Harpeth Hall, Lipscomb Elementary School, Franklin Road Academy, Williamson County Soccer Association, Habitat for Humanity, Nashville Fire Fighters Association, National Children's Cancer Society, National Kidney Foundation, One53, Special Olympics, The Next Door and the list goes on and on. THANK YOU for helping us support these groups and MORE!
As we move into 2017, don't forget to check out our prepay discount programs for the 2017 lawn care services. This is the best time to take advantage of great discounts that we offer only once a year. You can contact us or call the office at 615-269-7706 to learn more.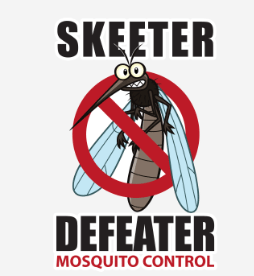 Skeeter Defeater
Introducing Skeeter Defeater. This is our 8 step Mosquito control program for your lawn. This service is a great value and will allow you to enjoy the great outdoors all summer long without getting eaten up by SKEETERS. Call today to get your quote for the service.
We have an introductory special for this program. Prepay for the year and you will get 8 visits for the price of 7!!!! Now that's a good deal
It's going to be an exciting year. The big "2" "0".  Stay tuned to our newsletter and our Facebook page to see what we are doing for our Twentieth year in business.
We truly appreciate your business, and as always, tell a friend about "Good ole 20-year-old Turf Managers LLC."