Quick Tips From Your Friendly Nashville Landscaper
Check below for tips on landscaping in the Nashville and surrounding areas. We have been serving the area for over 20 years and are the experts when it comes to how to take care of your lawn and landscaping.
SPRING
April 15th is the date that marks a hard frost as unlikely.  It's also a good time to activate irrigation systems.
May is a great time to add spring flowers, such as petunias, zinnias, impatiens, begonias or other colorful flowers to your landscape.
It's also a great time to divide perennials, cut back ornamental grasses before new growth comes out, and trim back crepe myrtles and hydrangeas before new growth comes out.
Apply pre-emergent to your lawn and landscape, and apply weed control to the grass.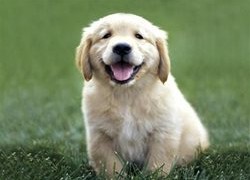 SUMMER
Water frequently, especially in the morning.  (Turf grass requires at least 1″ of water per week.)
Keep an eye out for disease on plants and turf.
Treat your lawn and landscape for fleas and ticks.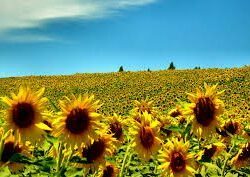 FALL
Fall is the absolute best time to improve your lawn through aeration and seeding.  Aeration creates seed pockets for our seed as well as loosening the soil.  This helps keep the seed in place during rain and windy conditions.
October is a good time to order and install fall flowers to ensure their root system is in before cold weather.  It's also a great time to plant bulbs, such as daffodils, iris, and tulips to brighten your yard – and your spirits!
We offer a leaf removal service and would be happy to get them off your lawn.
November is the month for irrigation winterizations.
Late fall and winter is the absolute best time for landscape renovations.  We can design, install and maintain your new landscape with great ease.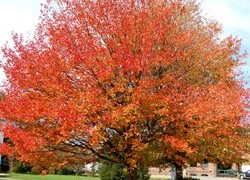 WINTER
Keep traffic on the lawn to a minimum when there is frost.  Walking on frosted or frozen turf can damage the grass blades, especially on very young grass.  While in most cases, the grass will recover with warmer spring weather, it's still recommended to keep it to a minimum.
Be careful to protect delicate plants during periods of extreme cold temperatures.  Frost and harsh winter winds can cause cracking and splitting of bark and branches.  Needles and leaves of evergreen trees and shrubs can brown severely leaving an unsightly appearance.  If the damage is not severe, the plants usually recover with warmer spring temperatures, but often symptoms are not noticed until well into the summer.
Winter is a great time to add to your landscape.  You get better plants, the transplanting is easier on the plant as it isn't pushing new growth at transplant time, wind damage to the plant is reduced to a minimum during the transportation of plants, and you get the benefits of winter rains and cooler temperatures to acclimate the plant to its new home.
February is a great time to "trim back" your Crepe Myrtles, Liriope (Monkey Grass) and prune Boxwoods.  These plants need to be pruned while they are dormant.  It's also a great time to apply pre-emergent herbicides to lawns and landscapes to hold down weeds.
March is a great time to plan for spring flower installations, pruning, mulching of landscape beds, fertilization and mowing.