Tree & Shrub Care in Nashville
Your landscaping is a lot like the icing on the cake. You've laid the foundation with a beautiful lawn, and now you get to decorate.At Turf Managers L.L.C. we can help you keep those "decorations" fresh-looking and healthy all year long. Even when the leaves are gone, Turf Managers L.L.C. can be there working hard to rid your trees and shrubs of pests.
And in the Spring and Summer we're there to make sure you have the most vibrant trees and shrubs on the block, and we promise to go right to the roots to make it happen!
Find out more about our Tree & Shrub Care program in this section, and call us today for a free analysis of your lawn and landscape.
Find out more about the best Tree & Shrub Program in Nashville!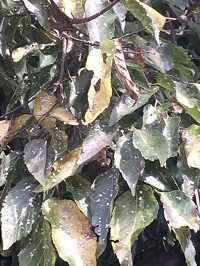 Have you ever asked the questions- what is causing all of the sap to come out of Hackberry trees in late summer and fall, what is all of this sticky stuff all over my car, what is this black moldy stuff all over my car and plants and everything else that is under a hackberry tree? Well this little guy is the reason. This is a Hackberry Wooly Aphid. They attack the leaves on Hackberries then excrete what is called Honeydew (the sticky stuff) and then the Honeydew turns into Sooty Mold (the black stuff). Other Aphids are on the loose right now as well so if you have Crape Myrtle plants you are probably seeing the similar things happening to them as well.