Lawn aeration is simply poking small holes in the soil all around your grass. These holes let the air and water reach their roots. Your roots can grow even deeper by aerating the lawn correctly, producing a resilient and robust lawn.
Aerating is vital to keep your soil from getting too compact. When the soil compacts, the soil is denser, preventing proper circulation—a lack of circulation results in roots starving for nutrients.
Why You Need to Aerate Your Lawn
There are signs that you need to aerate your lawn, but if you don't know what to look for, it might be hard to tell. For example, if you're watering your lawn regularly and it still isn't growing well, then you're probably in need of aeration.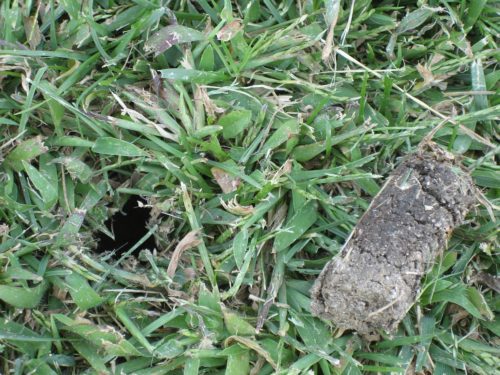 Other indications include:
Your house is a new build
Areas that have heavy traffic
A lawn that dehydrates quickly
The lawn was created with turf
The soil at new house builds tends to be compacted due to construction traffic. The same goes for kids or pets that play around the yard—they compact the soil, too.
Lawns that seem to dehydrate quickly likely have too much thatch. Thatch is made up of stems and roots, and it thickens over time. When it builds up too much, it keeps nutrients from filtering down to the roots, so aeration is needed.
If your lawn was created with turf laid over topsoil, you'll also want to consider aerating. Layering can prevent proper drainage and poor root establishment. Aeration breaks up your soil to let the water drain better and encourage the roots to develop properly.
Aeration Mistakes Made by Homeowners
While aerating your lawn can be something you do on your own, you want to be careful about how you do it. Some people will use soccer cleats because they think it's about poking a few holes, but it's more than that. Walking on the lawn while you're poking holes only compacts the soil more, so you really don't want to do that.
Here are a few other common mistakes homeowners can make:
Don't know how to use the equipment
You over-aerate and overseed at the wrong time
Not enough moisture after aerating
Mowing happens too soon
Not using the equipment correctly can result in damaging your lawn, as can over-aerating and overseeding at the wrong time of the year. The best time to aerate is when it's prime growing season, but doing so when a frost is near is almost guaranteed to kill your grass.
Many times, after a homeowner aerates and overseeds, watering the lawn is a must. The natural rain cycle isn't enough to get the seeds sprouting. You should instead follow a daily watering schedule for about three weeks before letting nature take its course. The same amount of time is suggested before mowing for the first time so the roots can take hold.
Why You Might Want to Hire a Pro
There's a lot that goes into aerating your lawn, and if you're the DIY type, it's definitely something you can do. At the same time, if you do the work on your own, you're at risk of making a mistake. Hiring a pro can keep that from happening and give you the lush, supple lawn you want.
Contact Turf Managers, your experts in lawn care, fertilization, weed control, and of course, aeration and overseeding. We'll be happy to help you develop a lawn you'll be proud of!
Contact Turf Managers Today and Schedule Your Aeration Service
Image Credits: https://commons.wikimedia.org/wiki/User:Guipozjim