Why Aerate & Overseed Your Lawn in the Fall in Nashville?
What are the benefits to aerate and overseed your lawn in the fall? Perhaps it may be easier to start with a little analogy of another situation some people may be more familiar with in their own lives. It all starts with compression or compaction.
Have you ever felt like you're a little shorter at the end of the day? It's not your imagination! Because of spinal compression, the average adult loses 1% of height over the course of the day. If you're 5' 10" in the morning, you may stand 0.7" shorter by bedtime!
The soil in your lawn also compacts! As your lawn is exposed to rain, sun, foot traffic, and other elements, the clay compresses, limiting the root system's exposure to much-needed oxygen and water. Compaction also inhibits the root system's ability to reach into pockets of Middle Tennessee's soil.
Well, unlike your compressed back at the end of a long day, relieving your lawn of soil compaction has an easy and affordable solution… and you'll love the results come springtime!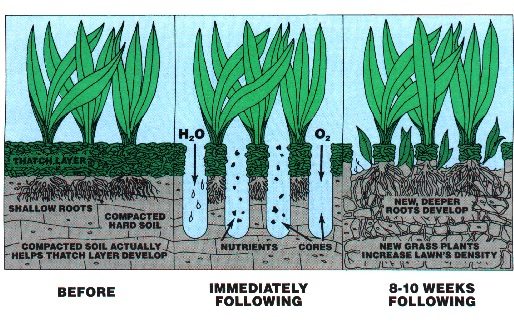 How Do I Aerate My Lawn? What Does It Mean?
Aeration is the process of penetrating the soil with a machine to remove thousands of small plugs of soil. This increases the opportunity for water and airflow (as well as the introduction of other nutrients). As a result, grass roots can grow deeper and stronger. Aeration is especially critical for alleviating soil compaction.
How Do I Overseed My Lawn?
Overseeding is the process of adding grass seed to an existing lawn, ensuring competition and growth in mature lawns where thinning is normal. Overseeding is most effective when done in tandem with aeration, which increases the opportunity for seed to work its way into the soil where it can take root.
Do I Need to Aerate and Overseed My Lawn?
If your lawn receives a lot of traffic (children, pets, mowing, vehicles, etc.), then aeration is especially important, as your soil is likely over compacted. Overseeding will help restore a mature, highly trafficked lawn with new, healthy grasses.
If your lawn was established by sod, aeration is especially important, as this finer soil needs to be broken up and integrated with the existing soil beneath so as to maximize drainage and rooting ability.
If your home is new construction, aeration is often necessary, as topsoil has been disturbed and the grass needs extra nutrients.
Why Aerate Your Lawn in the Fall?
Aeration and overseeding is best when done in the cooler temperatures, such as fall. Soil should also be moist (certainly not a problem here in Nashville, where November is the wettest month on average).
While November and December typically provide ample rainfall in Nashville, it's important to water your lawn after aerating and overseeding. We recommend light watering (twice daily) for the three to four days immediately following aeration and seeding. Heavier watering/soaking is recommended every other day for the next five days. A complete watering schedule will promote healthy root growth, maximizing the efficiency of your autumn aerating and seeding.
Aerate & Overseed Services In Nashville, TN
Could your lawn use a freshening up this fall? Learn more about our aeration and overseed service, available in the Greater Nashville Area. Just call (615) 269-7706 or email us at helpdesk@turfmanagersllc.com for pricing and scheduling. It's not too late to aerate and overseed your lawn this year. Let us help you!