So, you've got the perfect lawn mower this summer. You're already looking forward to fresh cut grass, watered to perfection this summer, and who can blame you?
The summer is when we observe the greenest pastures of grass in our yards, and this year you don't want the expectations to be any different. And you certainly don't want that perfect lawn mower doing any harm.
Whether you have a push mower or a riding mower, there may be a simple step in lawn care and lawn mower care you're forgetting that can have a drastic effect on your lawn.
So what is this key element in your lawn care routine? Keeping your mower blades sharp.
Sharp lawn mower blades will help you achieve a healthy lawn by creating clean cuts that are essential for keeping grass green and even.
If you start to notice uneven patches or brown spots, your lawn mower blades may require some TLC.
Is Your Mower Blade Dull?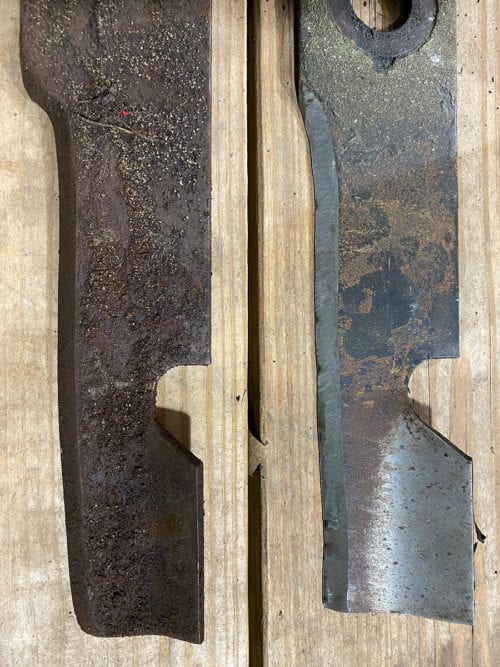 If you're wondering whether your lawn mower blades need sharpening, just take a look at your lawn.
Dull mower blades shred grass leaves that appear uglier, harder to mow and susceptible to disease.
Sharp blades cut evenly, giving your lawn a smooth appearance. When you're striving to keep up your lawn work, remember to follow these key steps:
Keep your blades sharper longer by keeping them clean. Clean grass and other debris from your blades after each use.
Allow them to dry completely, after you flush them with water, so they don't rust and become dull.
Replace the blades annually. If you maintain them well and have them sharpened, you may get two full productive years out of them.
When grass is under stress, its ability to grow healthy is limited. This can lead to an increased presence of weeds and plants dying off.
Fortunately, this can be prevented simply by keeping your mower blades sharp and ready.
3 Benefits of Sharp Mower Blades
What are some other benefits of a sharper mower blade? When it comes to keeping a lawn healthy, there are three advantages that most lawn care enthusiasts take note of right away.
Benefit #1 – Cleaner Lawn Appearance
You can compare mowing your lawn with shaving.
If you use an old razor with a dull razor blade, your skin is more susceptible to nicks or cuts. These cuts can cause frustrations and even moments of insecurity, because a sharper and cleaner appearance shows a confident and well-kept person.
With a sharp razor, you can get a nice fresh shave that gives you a cleaner and more attractive appearance.
It is the same concept with mower blades for your lawn.
If your lawn mower blade is dull, it will tear off the top part of your grass leaves instead of giving it a nice, smooth cut.
This ripping action creates unnecessary stress for your grass, making your lawn more susceptible to appearing dull, dry and lifeless.
Alternatively, if you use a sharp mower blade, your grass will be clean cut, giving a sign to your neighbors and yourself that you care about the quality of your yard.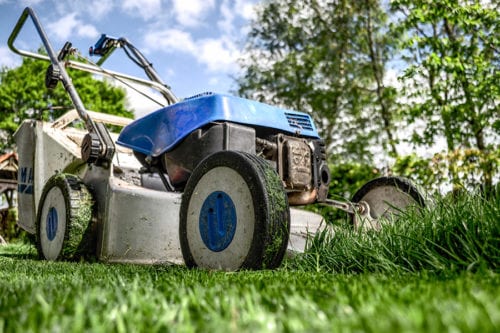 Turf Managers Tip:
At Turf Managers, we say it's a good idea to have your lawn mower blade sharpened two to three times a season to maintain peak efficiency.
But that figure is relative, because it depends on the number of hours you mow between sharpening.
Usually twice is enough for the average lawn.
Benefit #2 – Easier to Mow in Any Season
A sharp mower blade cuts easier and produces less engine drag, which means your grass is quicker to cut and your lawn mower will last longer.
Dull mower blades tend to increase the likelihood of rigid cuts and uneven grass length, making mowing harder and harder.
Turf Managers Tip:
If you have a grinder or a metal file, you can sharpen the mower blade yourself.
If you're not into DIY, you can also:
Disconnect the spark plug
Remove the mower blade
Take it to a hardware store or mower dealer for sharpening!
If you regularly run over sticks, rocks or other debris as you mow, you may need to sharpen the mower blades more frequently.
Sharp mower blades are a small but important step in quicker, easier and healthy lawn maintenance in every season no matter the weather.
Benefit #3 – Healthy Lawn Quality
One main advantage of a sharp mower blade is that it prevents damage to the grass.
A dull mower blade "rips" the top of grass. The increased surface area of the jagged edges and the stress it causes the turf grass make your lawn more susceptible to certain pathogens and pest insects.
A sharp mower blade provides a clean cut, which helps prevent fungal diseases from attacking your lawn, and this is perhaps the best reason of all to keep them in good condition.
Turf Managers Tip:
If you already struggle with the health quality of your lawn, we understand. With changing weather, changing seasons and our busy lives, lawn work can be hard to keep up with these days.
Here are a few ways you can keep your lawn healthy, no matter the season:
"Grass-cycle" your grass clippings. Leave your grass clippings on the lawn instead of throwing them away. Grass clippings will quickly decompose and return needed nutrients to the soil. Grass-cycling is a way not only to improve your lawn, it will also help you save time taking care of it!
Use natural lawn fertilizers. Natural fertilizers are better for your grass, the environment, and they are proven to work better than synthetics. There are many natural lawn fertilizers to choose from. You can browse them here.
Aerate your lawn. Over time, the soil beneath your grass can become compacted. Even the weekly chore of mowing your lawn can cause soil compaction. Lawn aeration simply means punching holes throughout your lawn to about 3 inches deep. With regular lawn aeration, you can help give your grass a proper medium to grow in, which loosens the soil and better air circulation.
Water your lawn deeply and less often. Turning your sprinkler on for just a few minutes a few times a week won't do much to help your lawn. If you water infrequently and deeply, the roots of your grass will start to grow deeper down into the soil. This helps your grass stay green during periods of drought or boiling weather.
Maintain Your Yard with Expert Lawn Care
Remember, summer means paying attention to the grass and the tools needed to maintain it.
A sharp lawnmower blade ensures your grass is mowed to its best form to keep your lawn beautiful, quicker to care for and disease-free.
Happily servicing the greater Nashville area for more than 20 years, Turf Managers has the understanding and experience to know how sharp your mower blades need to be for a healthy lawn.
Contact us today to find out how we can help your yard become an extension of your home with high quality yard products from the lawn experts who care!