These robust, striped worms move in large groups, hence the name "armyworm." They will mow an entire lawn down overnight if the infestation is bad enough. Armyworms migrate across the northern Midwest during spring in the US and leave devastation in their wake. The armyworm is the larvae of a genus and species of moths called Prodenia.
Signs of an Armyworm Infestation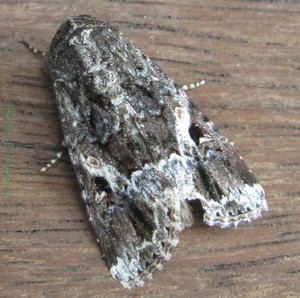 Frequently seen are the yellow striped armyworm, but this small caterpillars also may have green, brown and red stripes. When they become moths, they're about an inch and a half in size with dark gray wings with light splotches. In the larval stage, they tend to be most active overnight and into the early morning. They also do the most damage as larvae.
Armyworms are known for attacking a variety of plants from turf grasses to crops. For particularly heavy infestations, your grass can be eaten clear to the ground. If you don't see them, you may see scavenger birds or an increase in your local rodent population.
The animals that eat armyworms include mice, rats, skunks, and starlings. You'll see more of these creatures if armyworms are hiding in your turf. If you still don't see these animals, but you see brown patches on your lawn along with scratch or claw marks on the ground, you might have an infestation.
Where to Find Armyworms
According to the Department of Crop Sciences at the University of Illinois, armyworms are native to North America and favor dense vegetation. Some of the more common places you'll find armyworms are where they will have plenty of food to feast on.
Locations that are particularly enjoyed by armyworms include golf courses, grassy pastures, and anywhere there is an overgrowth of grasses. They also love corn and wheat, so it's common to find armyworms in these types of crops.
To identify an infestation, Turf Managers recommends that you look closely at nearby vegetation up to about five feet out from the brown patch in your turf. Check the grass, under leaves of nearby gardens, and shake plants you can reach to look for any that might be hiding.
How to Attack Armyworms
There are several different ways to kill armyworms and to get rid of the pests… but only a few of them actually work. Many of the natural ways to kill off armyworms DO NOT work. Keep in mind that these insects life cycle is very quick – so often times when you think they are gone, they have just moved onto a new stage of life.
With regards to treatment, insecticide is your best bet. Weather granule or sprayed on solution it is the best option to really get rid of these pesky worms. Turf Managers has the experience, tools, and necessary items needed to take care of this… and fast!
The best time to treat armyworms is when they're most active. Turf Managers recommend administering treatments at night or in the early morning.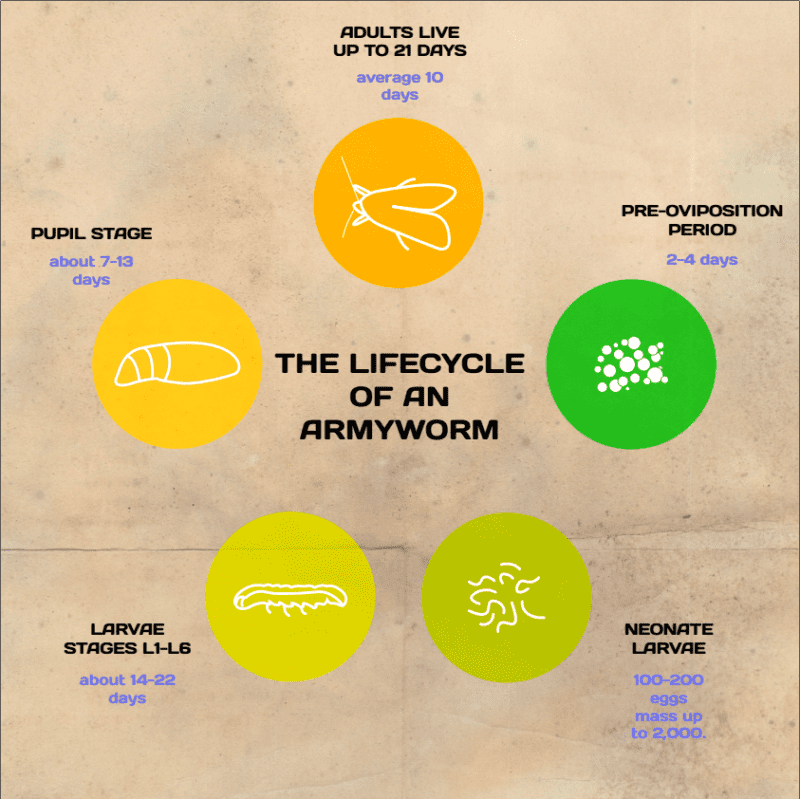 Lawn and Foliage Recovery
Depending on how severe the armyworm attack was, your lawn might escape relatively unscathed. If you mow regularly with sharp blades and keep your grass healthy underneath the infestation, then it will grow back fairly quickly.
If the attack was severe, you might want to speed up healing by overseeding or possibly resodding your lawn to repair armyworm damage completely. It's also a good idea to apply starter fertilizer and water your lawn every morning for the next week or two to help your yard recover faster.
When armyworms attack gardens, it's the same approach. Apply the appropriate fertilizer and water frequently for the next week to help your plants recover from the infestation.
Life After Armyworms
After dealing with armyworms, there are several steps you can take to prevent reinfestation. Be sure to aerate your lawn every year to ensure its proper health. Regular watering is also crucial because armyworms don't like cool surfaces. If your lawn is dry, it's much more appealing.
Keep your lawn well-maintained to also discourage armyworms from taking refuge in your turf. A healthy lawn can withstand an armyworm invasion and bounce back much easier than a lawn that isn't well-kept. Check regularly for armyworms to catch them as early as possible so you can keep the infestation down to a minimum.
When you need help keeping up with your lawn, contact Turf Managers to book a service call or consultation—we'll be happy to manage your turf and keep it healthy!
Image Source Credit: Wikimedia Commons